---
Our compact disc
Buy it from our music shop
A Breezy Ballad
Songs and ballads of Haydn Wood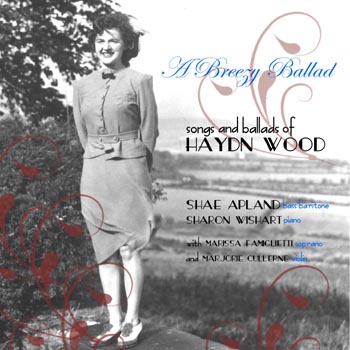 Shae Apland, bass baritone
Sharon Wishart, piano
with Marissa Famiglietti, soprano
and Marjorie Cullerne, violin
Listen to how Haydn Wood's songs and ballads
have joined the lineage of great music!
Marjorie Cullerne and Gilles Gouset present the first-ever CD devoted to songs and ballads exclusively composed by Haydn Wood.

This CD features Canadian bass baritone Shae Apland in 24 songs, with Sharon Wishart at the piano. Their fine musicianship reveals the rich spectrum of Haydn Wood's love ballads, sea songs and prayers for voice and piano.

18 of these songs were previously unreleased on CD.

Over a span of fifty years, Haydn Wood composed at least 180 songs. He himself wrote the lyrics to eleven of these. A Breezy Ballad, is a fancied self-portrait of youthful exuberance with the words penned under his pseudonym Hilton Schofield.

Haydn Wood composed songs for his wife, the soprano Dorothy Court. She was not only accompanied by various pianists over the years, but was often joined by Haydn on his violin. With this in mind, three of the songs on this CD have violin obbligatos performed by Marjorie Cullerne. One of these was composed by Haydn Wood. Marjorie has created the other two.

Haydn Wood set four song cycles to music. Shae and Sharon have recorded the thrilling Three Sea Songs cycle.

A real treat on this Haydn Wood CD is the romance of Roses of Picardy, beautifully emphasized as a loving duet between Shae Apland and the soprano Marissa Famiglietti. This duet version, composed by Haydn Wood himself, has never been recorded before.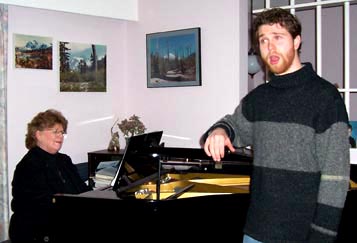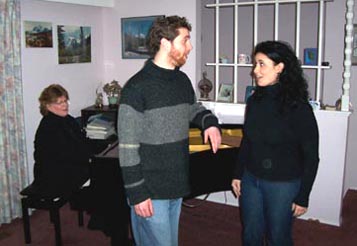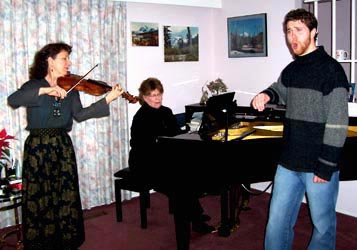 Bird of Love Divine (Kathleen Birch)
A Breezy Ballad (Hilton Schofield)
Casey the Fiddler (Fred. G. Bowles)
The End of the World (A Manx Spiritual) (Philip W. Caine)
Fairy Waters (Fred. E. Weatherly)
The Foray (P. J. O'Reilly)
I Bless the Dawn That Brought Me You (Lillian Glanville)
I Love Your Eyes of Grey (Haydn Wood)
Khaki and Gold (Fred. E. Weatherly)
The Little Ships (Dunkirk 1940) (Boyle Lawrence)
Love's Garden of Roses (Ruth Rutherford)
Memories of Yesterday (Lillian Glanville)
Prayer in the Desert (A Soldier - His Prayer) (Anonymous)
A Rose Still Blooms in Picardy (Elsie R. Bowler)
Roses of Picardy (Fred. E. Weatherly)
Somebody's in Love With You (Harold Simpson)
The Stars Looked Down (Lillian Glanville)
Think on These Things ("Petronius")
This Is My Dream (Elsie R. Bowler)
This Is the Song of Life (We Two Will Sing) (Dorothy Vivien)
Three Sea Songs (P. J. O'Reilly)

The Call
Ship o' Mine
The Sea Road

Your Prayers Are Asked (A. Hubert Moulding

Duration: 67' 39
Sent to Canada: CAD $23.60
to the U.S.A.: CAD $25.40 (approx. USD $23.25)
to the rest of the world: CAD $28.30 (approx. £15.75 / €18.95)
Prices include postage and packaging charges.
Buy it from our music shop
---
This page last modified 15 January 2014.
Photographs by Gilles Gouset
© Marjorie Cullerne and Gilles Gouset, 2009-2014
All rights reserved