[January] [February] [March] [April] [May] [June] [July] [August] [September] [October] [November] [December]
January 3rd, 1928
The BBC broadcast an all Haydn Wood concert. Wood himself conducts the Wireless Orchestra in A May-Day Overture, Variations on a Once Popular Humorous Song, suite Three Famous Pictures, entr'actes Heather Bells and Thistledown, and A Southern Rhapsody, Virginia. Soprano Megan Thomas sings A Brown Bird Singing, Bird of Love Divine, I Think of You My Sweet and It Is Only a Tiny Garden. Baritone Rex Palmer sings Ship o' Mine, The Sea Road, Town and Country and Casey the Fiddler.
January 4th, 1941
Haydn Wood thinks of composing a light opera based on Charles Kingsley's novel Westward Ho!, in the line of Merrie England, a comic opera by Edward German (1902), and The Rebel Maid, a romantic light opera by Phillips Montague Fawcett (1921). Westward Ho! is a British historical novel which was published in 1855. Wood lives in Westward Ho! (Devon), a seaside town which was named after the book.
January 6th, 1945
Haydn Wood has just received from Stanford Robinson a long list of scores that he requires for the BBC "Sunday Rhapsody" concert that he will conduct on January 14th. Wood is able to send right away the scores he happens to have at hand. And he immediately writes to the various publishers to ask them to send to Robinson what is available. Wood ends his letter to Robinson with a P.S.: 'This is the 7th letter I have written without stopping re this broadcast and I am getting a bit addled.'
January 7th, 1935
Haydn Wood goes to His Master's Voice Abbey Road studios, London, to conduct the Light Symphony Orchestra in a recording of his own arrangements of Four Edward Elgar Songs (Like to the Damask Rose, Queen Mary's Song, Rondel op. 16 No.3, Shepherd's Song op. 16 No.1) and, at Elgar's request, he also conducts the recording of Elgar's short piece Mina.
January 10th, 1943
Haydn Wood composed A Manx Pastoral Scene for orchestra in October 1942. He arranges it for oboe and dedicates it to oboist Leon Goosens.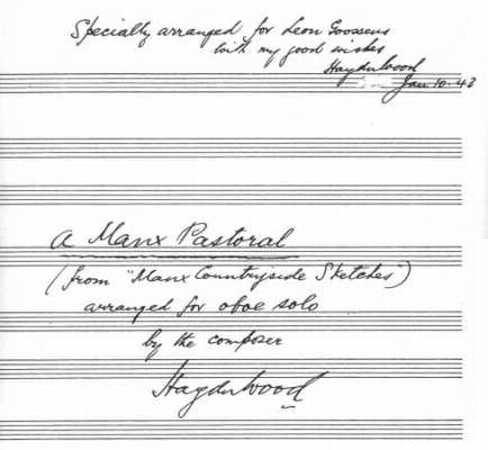 January 11th, 1941
Haydn Wood thinks of americanizing the words of the song edition of Torch of Freedom for the United States market. He writes to his publisher Leslie Boosey: 'They are as keen on freedom as we are, and when they join us short of nothing (which I think they will eventually), it might prove a success there.'
January 13th, 1943
Haydn Wood listens to Stanford Robinson's "Reverie" programme on the BBC, including the first broadcast of A Manx Pastoral Scene.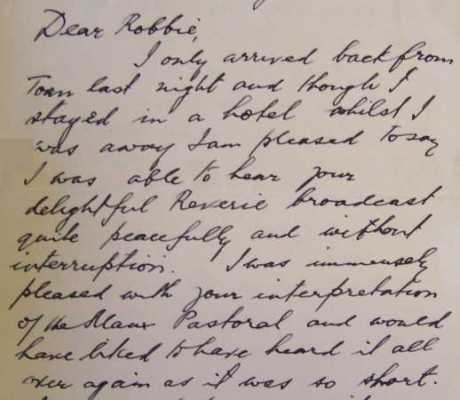 January 15th, 1934
Haydn Wood writes to the BBC to complain about a misprint in the Radio Times. His Prelude which will be broadcast on January 19th is attributed to Haydn without the Wood in the programme of this week's issue. 'If you would kindly notify the announcer of the error and also credit me as composer in your record of performances I shall be greatly obliged.'
January 16th, 1940
Haydn Wood conducts a broadcast from Bristol of Apache Life (from his suite Paris). The programme entitled "Let Her Go, Professor!" is devoted to the stories of famous musical directors. Wood is among the conductors who conduct the Augmented BBC Variety Orchestra in their own compositions.
January 18th, 1894
Harry Wood's Operatic Concert at the Grand Theatre, Douglas, Isle of Man. Haydn's brother Harry conducts the Douglas Philharmonic Society Orchestra. Master Haydn Wood sits in the second violin section.
January 22nd, 1917
Anthony's Dilemma opens at the Grand, Birmingham. It is produced by Oswald Marshall. The words by Harold Simpson have been set to music by Haydn Wood. This musical sketch tells how a Spanish singer who has lost the key of her own flat, finds help from the occupant next door who is an old flame. The meeting revives tender emotions. Amusing complications ensue through the appearance of the occupant's wife. Madame Ratmirova, the Russian prima donna is the central figure in the sketch. She has a dainty waltz song, Life Is a Dream of Delight, and two tuneful duets with her old lover (Harold Thorley), Ten Years Ago and Sad Is My Heart. Anthony's Dilemma has a descriptive addendum to the title: 'a musical incident in two flats and one key'.
January 23rd, 1946
Haydn Wood dedicates a print of A Bell for Adano, An Impression for piano solo to his sisters Elise and Adeline.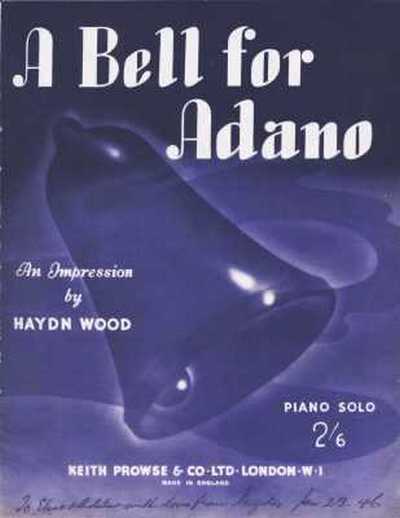 January 24th, 1929
Haydn Wood submits to the BBC a programme which consists of the compositions of three brothers, Harry, Daniel and Haydn: 'My brother Harry is well-known as a conductor and composer to your North country audiences, and my brother Daniel was an eminent flautist, being professor of that instrument at the Royal College of Music and the Royal Academy; and in addition an original member and director of the London Symphony Orchestra. He also achieved considerable success as a song-writer, his Garden of Happiness being extremely popular. He also wrote flute solos.' Haydn's suggestion will receive the BBC's careful attention. They will decide, however, that it might be more generally popular to give another concert of Haydn Wood's music alone.
January 25th, 1920
A busy Sunday: Haydn Wood and Dorothy Court set a record performing together in three Sunday League Concerts in London, at the Palladium, the Alhambra and the Camberwell Palace.
January 26th, 1938
Haydn Wood, Dorothy Court and Haydn's nephew Hilton Cullerne arrive at Douglas, Isle of Man, for the Annual Dinner of the Ellan Vannin Club. Haydn's brother Harry Wood is the President of the Club.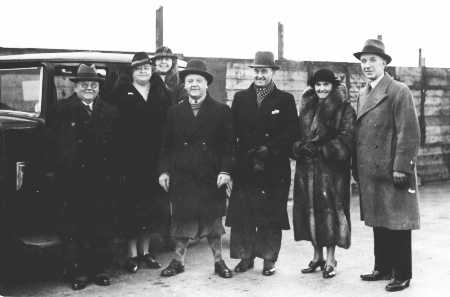 Left to right: Harry Wood, Dorothy Court, Adeline Wood, Haydn Wood, Hilton Cullerne and friends Mrs. and Mr. McEvoy.
January 27th, 1898
This afternoon, pupils of the Royal College of Music give a performance of Mozart opera's Don Giovanni at the Lyceum Theatre, London. The conductor is Charles Villiers Stanford. In act 1, Haydn Wood plays the violin on stage in a small string orchestra.
January 29th, 1925
Haydn Wood agrees to subscribe the sum of £100 for the production and running expenses of the play No No Nanette which Herbert Clayton & Jack Waller propose to produce at the Palace Theatre, London.
January 30th, 1949
Haydn Wood hears on radio a song which he composed in 1934, Memories of Yesterday. He writes to Douglas Lawrence, the BBC Light Music Supervisor, that it would make a good title for a broadcast series of old melodies. 'If you think anything of the idea, there is the ready-made signature tune for you.'
January 31st, 1924
Haydn Wood agrees to compose all music necessary for the conversion of a comedy Mice and Men by Madeleine Lucette Ryley into a musical play (provisionally entitled Little Britain). The producer is Wilfred Cotton.
[January] [February] [March] [April] [May] [June] [July] [August] [September] [October] [November] [December]
February 2nd, 1937
The BBC broadcast a programme of Haydn Wood's compositions played by Reginald Foort at the BBC Theatre Organ. Wood writes to Reginald Foort: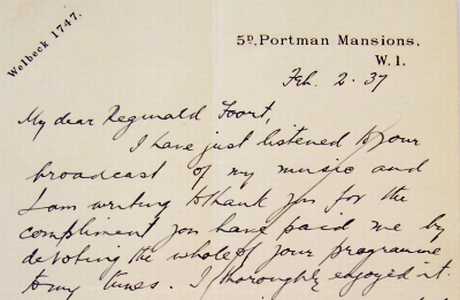 February 3rd, 1931
Haydn Wood agrees that Chappell publish the songs Roses of Picardy, Love's Garden of Roses and It Is Only a Tiny Garden together in an album in their Celebrity Series of World Famous Ballads.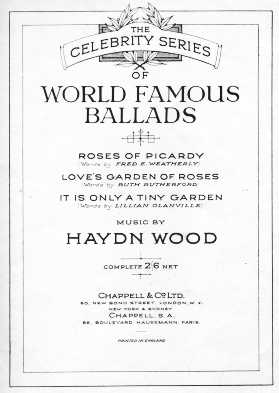 February 7th, 1906
Soprano Dorothy Court gives a concert this afternoon at the Æolian Hall, London. Haydn Wood as a violinist plays the andante from Édouard Lalo's Symphonie espagnole and a Brahms Hungarian Dance arranged by Joachim. They are accompanied by Herbert L. Cooke at the piano.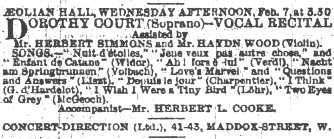 February 8th, 1906
Haydn Wood with Madame Albani's Concert Party boards the Numidian. They sail from Liverpool to Halifax, Canada. The soprano and her Company will tour Canada from East to West until June.
February 9th, 1904
Haydn Wood is the concertmaster in a series of five performances starting today of The Babes in the Woods, at the Gaiety Theatre, Douglas, Isle of Man. Haydn's brother Harry conducts the orchestra. Their sister Adeline has invented the dances. The whole production is under the personal supervision of Harry Wood.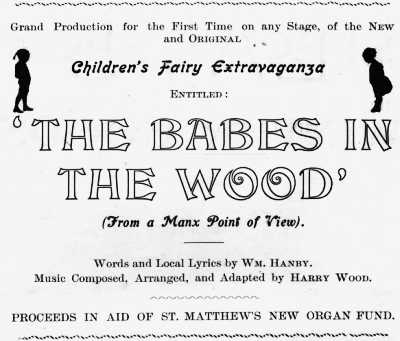 February 10th, 1899
Soprano Madame Albani gives a Grand Evening Concert at the Queen's Hall, London, with the Orchestra of the Royal College of Music conducted by Charles Villiers Stanford. Standford's Te Deum is given its first London performance. Haydn Wood plays in the first violins section of the orchestra.
February 13th, 1928
Haydn Wood plays as a violin soloist in a BBC Ballad Concert transmitted from London. He performs his arrangement of Oh! That We Two Were Maying by Ethelbert Woodbridge Nevin, a Scene de la Csarda by Jeno Hubay, his own Slumber Song and variations of his composition.
February 14th, 1953
The St. Pancras Old Time Dance Club holds a dance at the Willes Hall, Kentish Town, London. Haydn Wood, along with Dorothy, is invited to attend the dance as guest of honour. Club member Patrick Knight sings Wood's Coronation ballad Elizabeth of England accompanied by the composer at the piano. The orchestra plays his most famous melodies for dancing. Although Haydn does dance, he is soon surrounded by autograph hunters.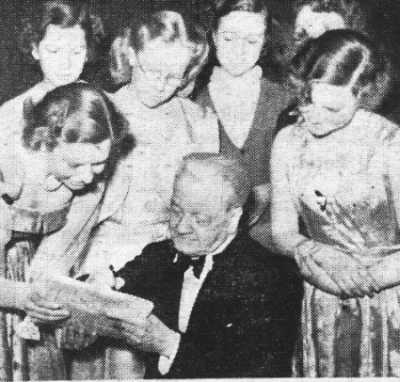 February 17th, 1898
Haydn Wood with Tom Morris, Sybil Maturin and Cyril Clensy, all pupils of the Royal College of Music, play a quartet for strings in D major by Joseph Haydn. A critic from the Musical Times will write: 'This was played by four small youngsters, of which the College prodigy, Haydn Wood, was the leader. To see a little fellow who has almost to climb on his chair lead a string quartet is amusing enough, but to hear him do it with such a good tone, such unerring technique, such a rare sense of rhythm, and such assurance is a little bewildering.'
February 18th, 1921
Haydn Wood assigns to Chappell & Co, London, all the copyright throughout the United Kingdom of Great Britain and Ireland, its Colonies and Dependencies, and all Foreign Countries, of and in the two song-foxtrots entitled Somebody's In Love With You and Pretending.
February 20th, 1945
Haydn Wood writes to the BBC: 'Last night I listened to the recorded broadcast of a programme I did last April and I noticed the pitch was above normal - in fact it was a full half tone in one number and the average a good quarter one. What I want to know is, is this done purposely so that the programme does not over-run? Personally, I find it very disturbing to the ear when, pianistically speaking, a piece is played between the cracks. Another reason, the work is a shade quicker than originally broadcast.' The Recorded Programmes people at the BBC are actually quite aware of the problem due to the unreliable electrical supply and the turntable driving system. And, as Kenneth Wright will specify to Haydn Wood, 'most of our ordinary electrical turntables are still running on prewar motors which are deteriorating, but cannot yet be replaced.'
February 21st, 1912
This afternoon (Ash Wednesday), contralto Ada Crossley, assisted by Haydn Wood, gives a Grand Sacred Concert at the Winter Gardens, Bournemouth, Dorset. Wood plays a violin obbligato to Crossley's singing of The Rosary by Ethelbert Nevin. His violin solo contributions are Sarabande by Joseph Sulzer, his own adaptation of Listz's La Campanella, his own La Vie de Bohème, and the last movement of Sonata in A major by César Franck, in which he is joined by E. J. Kiddle at the piano.
February 22nd, 1952
The Radio Times publishes a full page article about Haydn Wood written by Charles Reid. Wood will conduct live the BBC Opera Orchestra in a programme of his own music on February 26th, in the Masters of Melody series.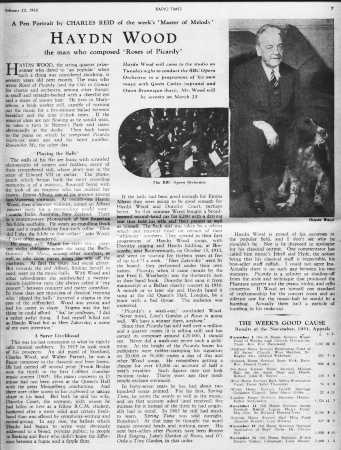 February 25th, 1916
The Era organises a luncheon in honour of the work done by the dramatic and variety professions all over the British Isles in the cause of recruiting and war charities. The place is the Savoy Hotel, London. Haydn Wood and Dorothy Court along with over 200 performers, are the guests of the public who have an opportunity of meeting stars of the stage.
February 26th, 1897
Young Haydn Wood takes the final examination for a free open scholarship at the Royal College of Music, London. He plays on a 3/4 violin by Thomas Perry.
February 27th, 1946
Haydn Wood talks to the members of the Bideford Music Club about his life and his work, illustrating his talk with excerpts from his compositions. He plays gramophone records of his piano concerto, his Variations on an Original Theme, a string quartet, his Scherzo Fantastique and Mannin Veen. He also plays his violin concerto accompanied on the piano by Lily Seton. Edith Mills sings three songs from the cycle Twelve Little Songs of the Year and the evening is concluded with a trio arangement with the composer playing the violin, Nance Littlewood the piano and Edna Rees the cello.
February 28th, 1951
The BBC broadcast Haydn Wood's piano concerto performed by Wilfrid Parry with the BBC Midland Light Orchestra conducted by Gilbert Vinter. Wood writes at once to Herbert Murrill, Head of Music, to tell him how delighted he has been with this performance: 'I am very grateful to you for giving me an opportunity of hearing the old work again.' He hopes that the first performance of Murrill's second cello concerto on March 3rd, will be a great success. And he adds:

[January] [February] [March] [April] [May] [June] [July] [August] [September] [October] [November] [December]
March 1st, 1924
Haydn Wood agrees that as from the closing of the Copyright Protection Society on June 30th next, his publisher Chappell should look after and control the mechanical reproduction of his works that they published prior to the passing of the Copyright Act 1911, on the understanding that they will pay to him his usual share of the Royalties received, less 10 % for collection and clerical work.
March 2nd, 1933
Haydn Wood assigns to Hawkes & Son, London, all the copyright, performing right, mechanical rights, and all other rights whatsoever, in the United Kingdom of Great Britain and Northern Ireland, the Dominions, the Irish Free State and in all foreign countries, of and in Manx Tone Poem. This composition will be published as Mannin Veen "Dear Isle of Man", A Manx Tone Poem.
March 3rd, 1946
This Sunday morning, Haydn Wood and Dorothy visit St. Mary's Church, Appledore, North Devon. They are particularly interested in the method of bell-ringing, and watch the bell-ringers ring a peal. They attend matins. After thanking the Vicar for the service, Haydn Wood congratulates the organist on her excellent playing, and the choir for its rendering of the service.
March 4th, 1953
Haydn Wood with Dorothy attends a concert of the British College of Accordionists.
March 5th, 1950
Haydn Wood with soprano Gwen Catley perform in the "Our Friends, the Stars" concert at the London Coliseum, a fundraising for the benefit of the Songwriters Guild of Great Britain. They are accompanied at the piano by Lily Seton.
March 6th, 1958
Dorothy Court dies at age 74, at the Middlesex Hospital, St. Marylebone, London. Soprano Dorothy Court's first appearance on the London Stage was as Juno in a 1903 production of The Tempest (Shakespeare) at the Court Theatre. She studied at the Royal College of Music from 1902 until 1905. She was known as a concert singer when engaged by the D'Oyly Carte Opera Company at the Savoy in 1908, to sing leading roles in revivals of Gilbert and Sullivan's operettas. She joined the J. C. Williamson Company and toured Australia after she married Haydn Wood in 1909. Returning to England, she performed with Haydn on the variety and concert stages until she retired in 1925.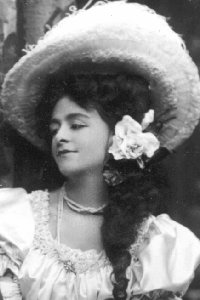 Dorothy Court as Mabel in The Pirates of Penzance (Gilbert and Sullivan), 1908.
March 8th, 1899
Haydn Wood in London sends a telegram to his brother Harry in Douglas, Isle of Man: 'Carisbrook Castle arrived safely yesterday all well.' Their brother Daniel has arrived in Cape Town with Madame Albani and her Company. They are going to give a series of concerts in South Africa. He will play flute obbligatos to her singing, as well as flute solos.
March 9th, 1946
Haydn Wood starts one of his bad chest colds which will steadily get worse. It will be quite impossible for him to travel from his home in North Devon to London to attend the Performing Right Society Board of Directors meeting and the PRS Benevolent Fund Committee meeting.
March 11th, 1956
Haydn Wood is presented with a special Ivor Novello Award for his outstanding contribution to the concert ballad repertoire. The event - the first Ivor Novello Awards - is organized by the Songwriters' Guild of Great Britain at the Theatre Royal, Drury Lane, London. It is broadcast on television by the BBC.
March 12th, 1924
Haydn Wood assigns to Chappell & Co., London, all his rights in the mechanical reproduction in the Dominion of Canada of his compositions published by them prior to January 1st, 1924.
March 14th, 1947
Haydn Wood gives to the Manx Museum Music Library his original manuscript and two printed copies (high and low keys) of his setting of T. E. Brown's poem I Bended Unto Me a Bough of May. Thomas Edward Brown (1830-1897) had a great love of his native Isle of Man and its people and he expressed this through his poetry.
March 17th, 1923
Haydn Wood assigns to Chappell & Co., London, all the Copyright throughout the United Kingdom of Great Britain and Ireland, its Colonies and Dependencies, and all Foreign Countries, of and in the eight songs entitled Little Yvette, I Bring You Joy, Dear Hands That Gave Me Violets, Wonderful World of Romance, May in My Garden, Little Girl Waiting at Home, I Love Your Eyes of Grey, Fairy Waters to be published together under one cover in the Portrait Album series.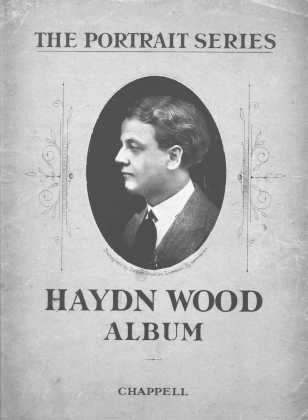 March 18th, 1950
Haydn Wood sends to Douglas Lawrence, Light Music Supervisor at the BBC, a cutting from last night's Evening News about Queen Mary's Garden. There is to be a ceremony there on April 25th. Wood writes: 'If there is a suitable orchestra available that day how about asking the conductor to include in his programme Queen Mary's Garden, Regent's Park from my suite Snapshots of London. It would be a topical item.' After checking the scheduled programmes, Lawrence will answer that of the five orchestras which are broadcasting for the Light Programme on this day 'not one is of an orthodox nature suitable to perform this composition.'
March 19th, 1937
This afternoon, Haydn Wood is the guest conductor of the Municipal Orchestra at the Winter Garden, Eastbourne, Sussex. Among other items, he conducts his violin concerto in A minor with Joseph Shadwick at the violin.
March 22nd, 1936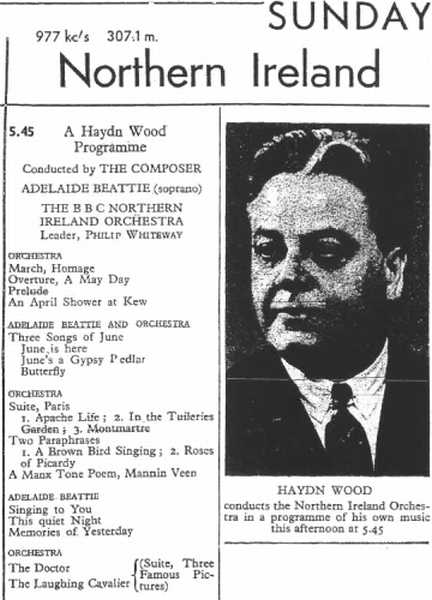 The Radio Times, 20 March 1936.
March 23rd, 1909
Haydn Wood marries Clara Dorothy Court at the St. Mary's Church, Westerham, Kent. The bride is attired in a Princess gown of crepe de chine, trimmed with Mechlin lace, and also wears a veil of Brussels net, with wreath of orange blossoms. She carries a bouquet composed of gardenias, lilies of the valley, and white heather, and wears a gold watch bracelet, both the gifts of the bridegroom. The ceremony is performed by the Rev. S. Le Mesurier.
March 25th, 1882
Haydn Wood is born at the Lewisham Hotel, Slaithwaite, Yorkshire.
March 27th, 1939
Haydn Wood sends an obituary notice of his brother Harry to the Performing Right Society. He would be glad if they would include it in the next issue of their Gazette. Harry was on old member of the Society and died on December 25th last.
March 28th, 1952
Haydn Wood thanks the staff of the Performing Right Society, and the Light Music Section at the BBC, for their good wishes for his 70th birthday.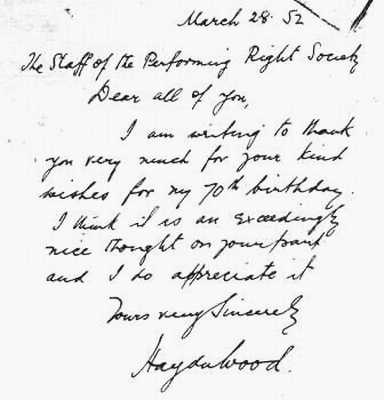 March 29th, 1949
Haydn Wood assigns to Schott & Co., London, the copyright in his composition Fantasy for string orchestra for the United Kingdom of Great Britain and Ireland, its Dominions, Colonies and Dependencies and in all Foreign Countries and their Colonies and Dependencies. And he pays Schott £50 towards the cost of production of the printed score and parts.
March 31st, 1938
Eric Coates, Montague Phillips and Haydn Wood appear as representatives of British Light Music at the Bath Music Festival. They conduct the Pump Room Festival Orchestra in examples of their compositions. Wood conducts the first concert performance of rhapsody King Orry, the overture Apollo, the suite Cities of Romance and the orchestral paraphrase of the song A Brown Bird Singing.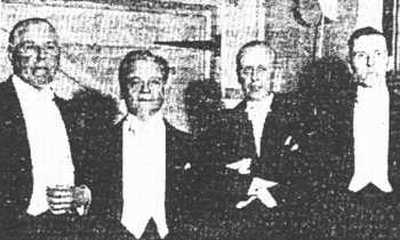 Left to right: Montague Phillips, Haydn Wood, Eric Coates and Maurice Miles, Bath's Musical Director.
[January] [February] [March] [April] [May] [June] [July] [August] [September] [October] [November] [December]