[January] [February] [March] [April] [May] [June] [July] [August] [September] [October] [November] [December]
July 1st, 1934
Haydn Wood conducts the Harry Wood's Orchestra in his Manx Rhapsody and his Manx Tone Poem, Mannin Veen at the Palace, Douglas, Isle of Man. This is part of a Manx Music broadcast on the BBC North Regional Programme, the first concert ever broadcast from the Isle of Man.
July 3rd, 1951
Haydn Wood is among the audience at the Festival of Britain Pageant, at Nunnery Grounds, Douglas, Isle of Man. The Pageant depicts the history of the Island through the ages. Wood has composed the music.
July 4th, 1917
Haydn Wood confirms to William Boosey that he will compose solely for Chappell under the conditions arranged by them yesterday. In the Memorandum of Agreement made on July 11th, it will be agreed that Haydn Wood shall write songs exclusively for Chappell & Co. for a period of three years commencing July 15th, 1917. He will provide them with not less than four songs a year, the songs to be approved by Chappell. And Chappell shall have the first refusal of any pianoforte music or other works Haydn Wood may write.
July 5th, 1952
Over the years, Haydn Wood suggested to the BBC that they broadcast a programme of Manx music on July 5th for Tynwald Day to please the people of the Isle of Man. Today, he is in Manchester to conduct the BBC Northern Orchestra in a concert of his Manx music. The programme is broadcast on the BBC North Home Service. And later in the evening, the BBC Opera Orchestra conducted by Stanford Robinson plays Wood's Mannin Veen on the National Light Programme.
July 6th, 1953
Haydn Wood writes to Hubert Clifford, Head of Light Music at the BBC: 'I see by the Radio Times there is a series of "Mr Music" broadcasts, so I am venturing to ask if I may be given a programme as composer-conductor. Though I have never actually earned my living as a conductor, I have conducted my music since the early days of Savoy Hill, also up and down the country at concert performances, so I hope I may be eligible as a "Mr Music".'
July 9th, 1933
Haydn Wood conducts the Grand Orchestra at the Palace, Douglas, Isle of Man, in his own compositions: the andante and finale from his violin concerto, with violinist Antonio Brosa, Mannin Veen, A Manx Tone Poem and Roses of Picardy, Song Intermezzo.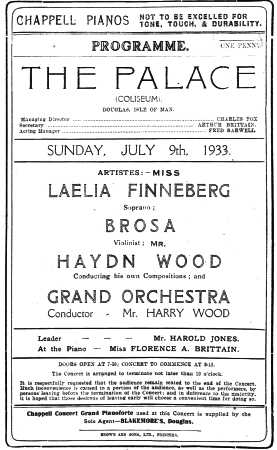 July 10th, 1941
Haydn Wood writes to Reginald Burston at the BBC: 'I am writing to thank you for a fine broadcast of my King Orry. It was so virile and excellent throughout that I am rather loath to draw attention to one point, and that is, the oboe solo in the opening section was a little overshadowed by the string accompaniment. This is problably my fault and probably a little to do with the balance also. I should have liked to have muted the strings, but, unfortunately, there is no opportunity for taking the mutes off for the following climax. Please do not think this overshadowing was pronounced, as, probably, nobody but the composer would notice it.'
July 13th, 1904
Haydn Wood and his family get together at Douglas, Isle of Man, to celebrate his brother Daniel's engagement to Mary Scholes.
July 14th, 1909
Haydn Wood's piano concerto in D minor is given its first performance at the Queen's Hall, London, under the auspices of the Royal College of Music Patron's Fund. Charles Villiers Stanford conducts the London Symphony Orchestra, and Ellen Edwards is at the piano.
July 17th, 1952
At the Cheltenham Festival of British Contemporary Music, tonight's concert is devoted exclusively to the music of the lighter British masters. Sir John Barbirolli conducts the Hallé Orchestra in Haydn Wood's Variations on a Once Popular Humorous Song. Wood comes on to the platform five times to receive tremendous applause.
July 19th, 1941
Haydn Wood sends to his publisher Boosey & Hawkes an arrangement for mixed voices of Torch of Freedom. He writes to Leslie Boosey: 'I am wondering if it is a shade high in the key of G. Would you kindly ask your advisers if the key of Gb would be better … I think this vocal arrangement should be orchestrated … Incidentally, suddenly becoming mercenary, do I receive anything for these arrangements?' Boosey will answer: 'I am a little puzzled about your second question. Of course you will receive a 10 % royalty on the arrangement, with the usual half royalties abroad', and Wood will reply: 'I did not realise that it was in my contract … Stupid of me!' The arrangement will eventually be published for chorus and orchestra in the key of G, in November.
July 20th, 1935
Haydn Wood leaves London to stay for three weeks at his brother Harry's, in Douglas, Isle of Man. On the way, he will conduct a concert of his compositions in Blackpool.
July 21st, 1935
Tonight, Haydn Wood conducts the North Pier Orchestra in Blackpool.
July 22nd, 1932
Haydn Wood dedicates a copy of the arrangement for violin and piano of his violin concerto, to his wife Dorothy. The concerto itself is dedicated "To my Wife."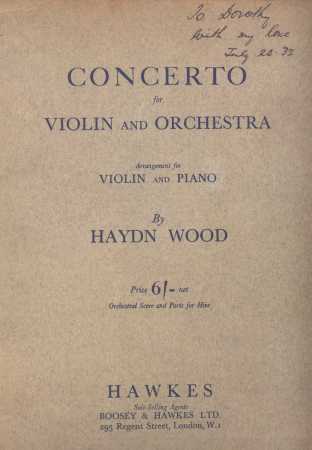 July 24th, 1945
Haydn Wood asks Stanford Robinson, the BBC Music Productions Director, if he would look at the score of the march The Horse Guards, Whitehall that he has just completed, with a view to giving it its first performance in the "Tuesday Serenade" programme. Robinson won't think he can play this march because it contains a tune somewhat reminiscent of something else. The march will later be the signature tune of the most enduring record request show "Dow Your Way" from its inception on December 29th, 1946 to 1992.
July 25th, 1946
Haydn Wood is about to move back to London after the war years. He finds it impossible to get the telephone connected. He asks Kenneth Wright if there is anybody in the BBC who can possibly help him to get it. Wright will answer that they cannot do anything about it, as many of their own staff are in exactly the same position, and the only priorities apply to senior officials.
July 28th, 1916
Haydn Wood has his brother Daniel to lunch. Daniel has written a song and they put the finishing touches to it.
July 31st, 1909
Hilton Schofield assigns to Haydn Wood the words of Ho, Noney No. Hilton Schofield is a pseudonym under which Wood penned a few songs. Ho, Noney No will be published by Chappell in 1910 with a new title: On a Spring Morning.
[January] [February] [March] [April] [May] [June] [July] [August] [September] [October] [November] [December]
August 1st, 1927
Haydn Wood with soprano Josie Fearon gives a musical scena on the stage of the Astoria Cinema, Charing Cross Road, London. They will perform at the intermission each day until August 6th.
August 3rd, 1940 Haydn Wood sends to his publisher Boosey & Hawkes a choral work Ode to Genius which he has written with a view to its inclusion as a test piece in the 50th Manx Music Festival. Leslie Boosey will answer that they feel it will not be widely used by the average Festivals, even in peace time. Wood and Boosey will agree to share the cost of producing an edition of 500. But Boosey will wait until 1945 to publish Ode to Genius when the Manx Music Festival promise to choose the work as the test piece for the 60 voice choirs in the next Festival. Thus it will be given its first performance at the Gaiety Theatre, Douglas, on May 12th, 1946, with the Royal Naval School of Music Orchestra, in the Festival's closing concert.
August 4th, 1941
Haydn Wood writes to his publisher Leslie Boosey: 'Clarence Raybould is broadcasting the first performance of my new overture Minerva in the BBC Home Service … I hope you or your advisers will listen in'. An adviser will listen in and comment: 'A nice work … must have full orchestra. Very symphonic in character … Why not get it and keep it for hire until war is over?' Boosey will decide to wait until Wood approaches him again with reference to Minerva. Wood will approach him on August 19th. Eventually Minerva will never be published.
August 5th, 1947
Haydn Wood assigns to Ascherberg Hopwood & Crew all the rights in his composition Princess Elizabeth of England. And in 1952, Ascherberg will republish the work as Elizabeth of England after the Princess's accession to the throne.
August 7th, 1948
Haydn Wood is the guest conductor in a concert by the Bournemouth Municipal Orchestra at the Winter Gardens, Bournemouth. He conducts his own works Mannin Veen, his Scherzo Fantastique for piano and orchestra, A Stanford Rhapsody, and the first performance of Soliloquy.
August 10th, 1954
Haydn Wood has set to music Richard Corrin's A Thousand Beautiful Things in 1946, Song of a Thankful Heart in 1947, and As I Go on My Way in 1949.
August 11th, 1928
Haydn Wood writes to his publisher Boosey & Hawkes: 'I have played White Rose Asleep very successfully as a violin piece and it has struck me that possibly you may think it worth while to publish the arrangement for violin or cello which I am sending you.' White Rose Asleep is a song which Wood has composed and got published by Boosey in 1913. The arrangements for violin, and for cello, with piano accompaniment, will be published in November 1918 under the title of Berceuse.
August 16th, 1920
In consideration of a royalty of four pence per copy to be paid to him on all copies sold of the piano edition, Haydn Wood assigns to Chappell all the copyright of the selection arranged on songs composed by him. The selection has actually been published earlier in 1920.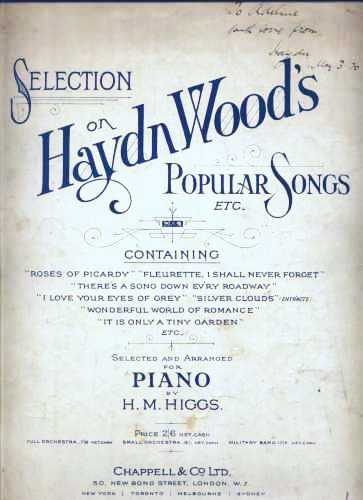 August 17th, 1930
Haydn Wood conducts a concert of his compositions at the Palace, Douglas, Isle of Man. He gives with his brother Harry's orchestra, his suite Three Famous Cinema Stars, Harlequinade, The Court of Pharao from suite Egypta, and A Southern Rhapsody, Virginia. By special request, Harry conducts Pleading and Love in Arcady. Haydn Wood plays on the violin his Berceuse and La Vie de Bohème. The concert includes several of his songs with the first performances of The Fairy Changeling by soprano Gladys Cole and When Dawn Breaks Through by tenor Walter Widdop.
August 20th, 1907
Haydn Wood with Madame Albani and her Concert Party arrives in Tasmania on board the Coogee from Melbourne. They give a concert at the Albert Hall, Launceston. Wood plays the finale of César Franck's violin sonata with Myrtle Meggy at the piano. He plays a violin obbligato to Albani's singing of L'amero (Mozart). He gives on the violin Plevna Nota by Hubay, Träumerei by Schumann, a Serenade by Pierné and his own Variations on a Caprice of Paganini. He is accompanied by Theodore Flint at the piano. After the performance, Madame Albani and Company leave for Hobart by the mail train at 11 o'clock.
August 21st, 1903
Two concerts take place at Government House, Douglas, Isle of Man, on the occasion of the rummage sale. Haydn Wood and other musicians have kindly offered their services. Wood plays on the violin Plevna Nota by Hubay and a Nocturne by Chopin arranged by Sarasate.
August 22nd, 1934
Haydn Wood conducts the Municipal Orchestra at the Colonnade, Bexhill, Sussex, in a concert of his orchestral works. They give A Manx Overture, Mannin Veen, and the suite In an Old Cathedral Town. Soprano Muriel Sheather sings Wood's A Brown Bird Singing, Bird of Love Divine and The Unforgotten Melody. And Reginald Whitehouse plays on the violin Wood's La Vie de Bohème and Slumber Song.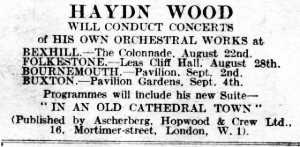 The Daily Telegraph, August 18th, 1934.
August 23rd, 1933
Haydn Wood listens to Reginald King and His Orchestra in a BBC programme entitled "The Music of Haydn Wood". He will write to Reginald King: 'I was delighted with many of the beautiful effects you produced. The organ was particularly effective in Mannin Veen but there are heaps of other points too numerous to mention that pleased me immensely.'
August 24th, 1940
Haydn Wood writes to the Secretary of the Performing Right Society: 'I am in favour of the purchase of a Spitfire aircraft and that the Society should subscribe £ 5,000 for that purpose.'
August 25th, 1934
Haydn Wood and Dorothy send a telegram to Wood's sister Adeline on her 54th birthday: 'Many happy returns of your birthday. Congratulations on attaining your majority.'
August 26th, 1915
Haydn Wood attends a Promenade Concert at the Queen's Hall, London. Sir Henry Wood conducts the New Queen's Hall Orchestra in Haydn Wood's concerto in D minor for piano and orchestra. Auriol Jones is at the piano.
August 30th, 1920
Haydn Wood and Dorothy Court with their pianist Lily Mackenzie, give their vocal and musical act at the Palace, Douglas, Isle of Man. This is the first day of a two-week contract. Haydn's brother Harry is the Palace Musical Director. Haydn's stay in Douglas is a family gathering too, with Harry and their sisters Adeline and Sophia, who all live in Douglas.
August 31st, 1940
After the BBC have decided to ban copyright music by German (and their Allies) composers, Haydn Wood writes to his publisher Leslie Boosey: 'I am glad to hear the Corporation (with some gentle persuasion from the Performing Right Society, no doubt) are putting the screw on Alien composers; about time, too!'
[January] [February] [March] [April] [May] [June] [July] [August] [September] [October] [November] [December]
September 2nd, 1942 Haydn Wood conducts the BBC Theatre Orchestra in a concert of his compositions broadcast from Bedford. They perform the American Rhapsody, Moti Lal, the Charmer of Snakes and Suzuki, the Geisha from the suite East of Suez, and the rhapsody Romany Life. Wood stays with Dorothy and a friend at the Bridge Hotel. They have dinner there with Stanford Robinson, the BBC Music Productions Director and his wife soprano Lorely Dyer.
September 3rd, 1940 Haydn Wood returns to his publisher Leslie Boosey the proofs of The Seafarer arranged for military band by W. J. Duthoit: 'You did not send me Mr Duthoit's score so I have proofed the parts from the piano conductor to the best of my ability. Before returning them to the engraver I think it would be advisable for Mr Duthoit to go through my corrections to see if they tally with his score … Do you intend doing The Seafarer for the ordinary orchestra?' Boosey & Hawkes will publish the military band arrangement in January 1941, and the orchestra version in January 1942.
September 4th, 1926 Haydn Wood conducts the New Queen's Hall Orchestra in a Promenade Concert at the Queen's Hall, London. They perform his Variations on a Familiar Air. The work will be published under the title of Variations on a Once Popular Humorous Song.
September 6th, 1938 Haydn Wood conducts the Municipal Orchestra in a broadcast concert, at the Pavilion, Torquay, Devon. They give his suite Cities of Romance, his Manx Overture, and the first performance of his overture Life and Love. Soprano Mary Hamlin sings his Three Songs of June accompanied by the orchestra.
September 7th, 1925 Dorothy Court sings the National Anthem at the opening ceremony of the New Cross Kinema, London. The entertainment which follows includes Haydn Wood and Dorothy in their musical scena, with their pianist Lily Mackenzie. The Trio will play at the intermissions for the week.
September 11th, 1941 Haydn Wood is currently composing a rhapsody on Sir Charles Villers Stanford's songs. Stanford was a composer who taught Wood composition at the Royal College of Music. A son of Sir Charles, Guy Stanford is very protective of his father's works. Wood meets him today at Boosey & Hawkes's, London.
September 12th, 1942 Haydn Wood has received a letter from Tudor Williams, a listener to his broadcast concert of September 2nd. He replies: 'I am writing to thank you for your congratulations on my broadcast. I am very gratified that you liked it. I have much pleasure in sending you the enclosed for your autograph album."
September 13th, 1948 Haydn Wood with Dorothy is present at the interment of his sister Adeline, which takes place at the Slaithwaite Cemetery, Yorkshire. Adeline died at age 68 on September 10th, in Golcar. She was born in Slaithwaite and went to live in the Isle of Man along with her family in 1885. For many years she lived with her brother Harry, and she returned to Yorkshire after he died in 1938.
September 14th, 1934 The first performance of the suite Four Edward Elgar Songs is broadcast by the BBC with Joseph Lewis conducting the BBC Orchestra. Haydn Wood transposed these songs by Edward Elgar for orchestra. It is not known whether he attends the rehearsal and the concert in the studio, or if he listens at home.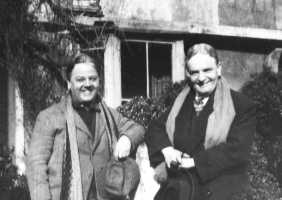 Haydn Wood and Joseph Lewis.
September 15th, 1945 Haydn Wood, Dorothy and their pianist Lily Seton move to Bideford, North Devon, again. Because of wartime upheavals, they had left London in September 1939 to have five different residences in North Devon, until they move back to London in July 1946.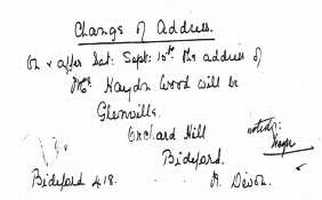 Postcard in Dorothy Wood's handwriting.
September 17th, 1905
Grand Evening Concert at the Palace, Douglas, Isle of Man. Haydn's brother Harry Wood conducts the Palace Grand Orchestra. Haydn is principal violinist in the orchestra. This is the last of the Palace Summer concert series for the season. Haydn Wood has been playing in all concerts from July to September, either as principal violinist, or soloist, or accompanying the famous soprano Madame Albani.
September 21st, 1918
Jim Nolan gives his third annual treat to 2000 poor children who have lost their fathers in the war. The youngsters have a real good time, despite the wet, the only thing they miss being the sports, which is impossible to hold. Haydn Wood is one of the many personalities present helping with the children's outing.
September 22nd, 1902
is the first day of Dorothy Court's three years as a student at the Royal College of Music, London, where Haydn Wood is already excelling. She studies voice and piano acccompanying, and later opera.
September 24th, 1896
Master Haydn Wood is the young violin soloist at the Pavilion, Douglas, Isle of Man. The concert in aid of the Isle of Man Fine Art & Industrial Guild Music Competitions, is under the patronage of Hon. A. Margaret Henniker, a daughter of the Lieutenant Governor. Wood plays Zigeunerweisen (Gypsy Airs) by Pablo de Sarasate.
September 27th, 1954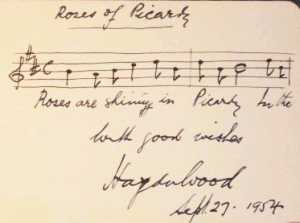 Haydn Wood signed many such autographs which included the first two bars of Roses of Picardy.
September 28th, 1947
Haydn Wood and six other composers attend a concert by the Luton Girls Choir in Watford, Hertfordshire. All seven have a work performed by the Choir. Two years later, the Luton Girls Choir will record Wood's Your Prayers Are Asked, with an orchestra conducted by George Melachrino.
September 30th, 1937
Staff of the BBC Music Department meet for their annual Swimming Gala fun. Haydn Wood had won the plunging trophy more than once in previous years festivities. Now, in 1937, he is happily cheering on his musical friends even though not taking the plunge himself.
[January] [February] [March] [April] [May] [June] [July] [August] [September] [October] [November] [December]