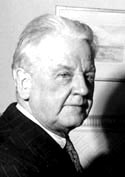 Haydn Wood 2009
Haydn Wood (Slaithwaite, Yorkshire, 25 March 1882 - London, 11 March 1959)
21 December 2008
The Slaithwaite Brass Band revives Merridale Quick March which Haydn Wood composed for the Band in 1948. The first performance of Merridale had been given by the Band on 19 December 1948.
3 & 7 March - 1 May - 11 July 2009
The Paul K. Cousino High School Symphonic Band (Warren, Michigan) and the Warren Concert Band, both conducted by Jeff Cutter, celebrates Haydn Wood with his Montmartre, March.
7, 8 & 10 March - 17, 24 & 26 May 2009
The Palm Court Orchestra under the baton of Charles Job on Vancouver Island has always championed the music of Haydn Wood. In 1998, it was the only orchestra to have performed Wood's Violin Concerto for decades. Three of Wood's songs and two of his short orchestral pieces are included on the orchestra's CD releases.
In March, the PCO conducted by Marianne Olyver performs Prelude; in May, the orchestra conducted by Charles Job performs Thistledown, Entr'acte No. 1.
12 March 2009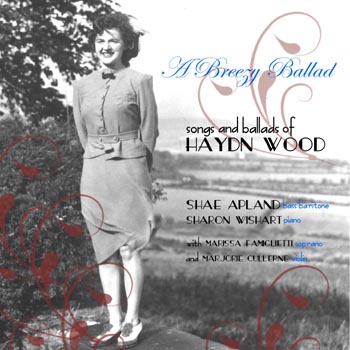 Marjorie Cullerne and Gilles Gouset release A Breezy Ballad, the first-ever CD devoted to songs and ballads exclusively composed by Haydn Wood. This CD features Canadian bass baritone Shae Apland in 24 songs, with Sharon Wishart at the piano. Their fine musicianship reveals the rich spectrum of Haydn Wood's love ballads, sea songs and prayers for voice and piano.
More on this CD
29 March 2009
Palm Trees and light music in Spas and Winter Gardens was a stylish way of living from late Victorian times to the 1950s. The Promenade Concert Orchestra conducted by Howard Rogerson, presents at Morecambe, Lancashire, a programme of music from these early days of music listening and live entertainment, surrounded by palms and aspidistras! On the programme: old favourites and lesser known gems, and to celebrate Haydn Wood, his A May-Day, Overture and Prelude.
5 April 2009
Robert Farnon Society London Meeting
Sunday 5 April 2009
Park Inn London, Russell Square
92 Southampton Row, WC1B 4BH
A Tribute to Haydn Wood
Lecture by Gilles Gouset
Concert
Roy Bell, flute
Marjorie Cullerne, violin
Camilla Cutts, soprano
David Snell, piano
The Aspidistra Drawing Room Orchestra
7 April 2009
Symposium Records release a CD of music by Haydn Wood conducted by himself or performed by Sidney Torch, Debroy Somers, John McCormack, Reginald Foort, Warwick Braithwaite, Anne Ziegler and Webster Booth. All tracks were recorded in the 1920s, 1930s and 1940s.
This CD includes Haydn Wood playing the violin in 1907 and an interview of Haydn Wood in 1954.
27 April 2009
James Patrick in his "Composer of the Week" programme on Fine Music Radio (a community radio station in Cape Town, South Africa) presents a two-hour programme of Haydn Wood's compositions.
English tenor Peter Dempsey, with Guy Rowland at the piano, performs 19 songs in a new CD released this month, Wonderful World of Romance, devoted to 'Unforgotten Melodies by Haydn Wood'. This CD also features Guy Rowland playing four of Haydn Wood's piano solos.
5 October 2009
A world premiere: violinist Lorraine McAslan and the BBC Concert Orchestra conducted by Gavin Sutherland record for Dutton Epoch Haydn Wood's Concerto for Violin and Orchestra in A minor, and the second movement Adagio of his Concerto in B minor (it is not known whether Haydn Wood composed any other movement for this concerto.)
24 October 2009
The Lambeth Wind Orchestra conducted by John Holland, gives a concert in London (West Dulwich): "Suites and Serenades". They commemorate the anniversary of the death of Haydn Wood with his Montmartre March, Soliloquy, and Dance of a Whimsical Elf.
2 & 4 November 2009
Gilles Gouset lectures in Haydn Wood's home county of Yorkshire:
The Life and Music of Haydn Wood
'Fame Can Be a Handicap'
at the Huddersfield Recorded Music Society on November 2nd and at the Barnsley Recorded Music Society on November 4th.
22 November 2009
The Isle of Man Symphony Orchestra conducted by Maurice Powell, gives at Douglas a Haydn Wood Anniversary Concert to celebrate the music of Haydn Wood and his brothers Harry and Daniel. The programme features the music of the Wood brothers who lived in the Isle of Man starting in 1885.
20 December 2009
Charles Guard presents on Manx Radio (Isle of Man) a one-hour programme on the life and works of Haydn Wood.